Hi guyssss! I miss blogging. Things had been hectic at school but whatever it's summer vacay now!! I have read a lot of books this past few months that I haven't reviewed yet so I'll be doing that now.
One of them is City of Bones: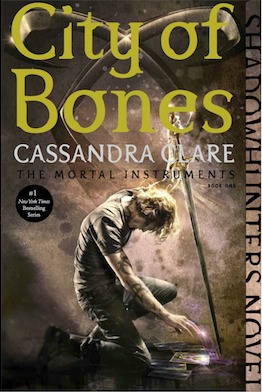 When fifteen-year-old Clary Fray heads out to the Pandemonium Club in New York City, she hardly expects to witness a murder—much less a murder committed by three teenagers covered with strange tattoos and brandishing bizarre weapons. Clary knows she should call the police, but it's hard to explain a murder when the body disappears into thin air and the murderers are invisible to everyone but Clary.
Equally startled by her ability to see them, the murderers explain themselves as Shadowhunters: a secret tribe of warriors dedicated to ridding the earth of demons. Within twenty-four hours, Clary's mother disappears and Clary herself is almost killed by a grotesque demon.
But why would demons be interested in ordinary mundanes like Clary and her mother? And how did Clary suddenly get the Sight? The Shadowhunters would like to know…
Format: Paperback
About the Book:
Paperback, 544 pages
Published September 1st 2015 by Margaret K. McElderry Books
About the Author:
Cassandra Clare was born overseas and spent her early years traveling around the world with her family and several trunks of fantasy books. Cassandra worked for several years as an entertainment journalist for the Hollywood Reporter before turning her attention to fiction. She is the author of City of Bones, the first book in the Mortal Instruments trilogy and a New York Times bestseller. Cassandra lives with her fiance and their two cats in Massachusetts.
5 stars
YASS, I'm finally starting the famous Mortal Instrument series.
My friend, who's also a book lover, from school told me to read the Mortal Instruments series. But I was having second thoughts because the series had a lot books and my experience with those is that they tend to drag the story and it made me bored. But when I went to the bookstore, I saw this and just had to try it. And it did not disappoint. I love how the flow of events went and the plot twists were just so so… so interesting. I finished this in 2 or 3 days because I felt I just had to rush it. It was so fun reading this story and would highly recommend it as I gave it 5 stars. I will be reading City of Ashes next and hope I enjoy it as much as I enjoyed this.
What are your thoughts about City of Bones? Have you read it? What do you think? Is it i nyour to-read list? I'd love to hear from you!
For now, ciao! Reviewing The Selection series by Kiera Cass next–